We are currently hiring several positions, if you know anyone interested please reach out to your center!!
"Nurturing Your Child's Every Need"
Children are born with a curiosity about the world; our teachers prepare the environment for children to learn through active exploration and interaction with adults, other children and Christian based materials. Under the guidance of our teachers, we will recognize individual needs and provide age-appropriate care and learning in a safe and open environment.
Our goal is to help children grow with self-confidence and a strong sense of self-direction. Children who feel good about themselves enjoy what they are doing and make great learners. In an environment where children are encouraged to make choices, they are able to both experience the arts and have fun while learning. using a hands-on approach allows a child to take an active role in the learning process.
We provide a safe and creative environment for children learn and grow. We also believe that children learn through active hands on involvement with materials, equipment, and activities. During active play, a child's mind, body, and emotions develop, and true learning takes place.
At Blessed Beginnings Preschool & Childcare LLC, we understand that the molding of a child begins at the earliest stages of life. That is why we make it our mission to foster the academic excellence of our students in a safe and secure environment. Our program is geared to meet not only the academic needs of students, but also their social and spiritual needs.
Our staff understands that entrusting your child with other people can make some parents nervous; we strive to get to know every parent and answer any questions they may have about our programs. We enjoy getting to know every family and showing them all the great reasons why are facility is perfect for their child.
Here at Blessed Beginnings, we will do our best to support your family and meet your needs. We encourage families that are considering enrollment to look around our website to view all that we have to offer your child.
Contact us today and discover why so many parent and families love our facilities.
About Us
Welcome to Blessed Beginnings Preschool & Childcare LLC.
Blessed Beginnings is a Christian based child care chain located in Central PA.
Tatum and Andrew Heiser opened the Loyalsock facility in January of 2006 and the South Williamsport facility in August of 2011. The decision to open a child care facility was to provide quality, reliable care for their own children.
Since our opening, we have devoted our time to educating the minds of children ages 6 weeks to 10 years. Blessed Beginnings prides itself on being able to give the best care possible while striving to prepare our children for their educational upbringing.
Our program is based upon Christian beliefs and we encourage Bible readings, songs and activities in our classrooms on a daily basis.
------------------------------------------------------------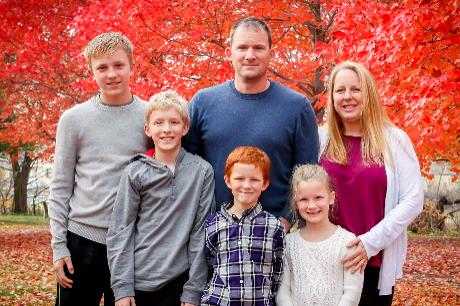 Our Mission Statement
Blessed Beginnings' mission is to foster children's educational needs, as well as their emotional, physical and spiritual needs. The first five years of a child's life are vital. We, here at Blessed Beginnings will see to it that every child with us will learn and grow in a manner that will enable them to succeed in school and life. We are dedicated to instilling family values in a respectful manner. We will provide every child with a safe, secure, educational, and value-oriented environment so that they can truly have a blessed beginning.
Philosophy
Blessed Beginnings is committed to your child's profound well being. We will provide a safe, stimulating and nurturing environment, while building self-esteem and promoting values in a manner that is respectful to you and your child.
The first five years in a child's life are vital in their development. Children begin exploring the world around them through books, music, play, creative activities, as well as experimenting with nature and science by being outdoors and in the community. We will ensure that your child has a Blessed Beginning.
Objectives and Goals 
Development of intellectual, emotional and physical needs to build happy, healthy children. 
Development of social skills through manners, values and interaction with other children and the community.
Fostering creativity through creative play and exploration of music, story time and physical activities.
Fostering positive views of self, home, school and community. 
Provide nutritious foods, physical health, rest time and hygiene guidance.
------------------------------------------------------------------------------------------------------------------------------
Non-discrimination statement: This explains what to do if you believe you have been treated unfairly. "The U.S. Department of Agriculture prohibits discrimination against its customers, employees, and applicants for employment on the bases of race, colors, national origin, age, disability, sex, gender identity, religion, reprisal, and where applicable, political beliefs, marital status, familial or parental status, sexual orientation, or all or part of an individual's income is derived from any public assistance program, or protected genetic information in employment or in any program or activity conducted or funded by the Department. (Not all prohibited bases will apply to all programs and/or employment activities.) If you wish to file a Civil Rights program complaint of discrimination, complete the USDA Program Discrimination Complaint Form, found online at http://www.ascr.usda.gov/complaint_filing_cust.html"